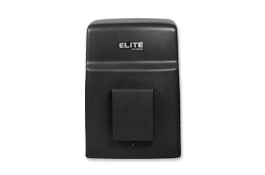 SL3000UL3 
Commercial Slide Gate Operator 
The SL3000UL™ models of slide gate operators are the first choice for heavy-traffic applications and high-demand customers, including large development and management companies, prestigious residential gated communities, and custom home builders.

Featuring the highest quality components and backed by years of proven reliability, each unit is carefully inspected and mechanically tested to provide unsurpassed performance. Unique engineering innovations ensure than any SL3000UL  model will meet the needs of almost every type of high-traffic gated entrance. All backed by the safety and reliability of the most advanced control board in the industry.


This model has earned the Good Housekeeping seal.  
120V AC power
24V DC board
Built-in radio receiver
Highly efficient, extremely quiet
Surge/lightning protection
Alarm reset button
Weatherproof high-density polyethylene cover
Gold zinc-plated chassis eliminates corrosion
High-speed precision limit switches
Solid steel, machined pulley
#41 chain
7-year warranty for residential applications;
5-year warranty for commercial applications
The SL3000UL gate operator is available in the following models:
SL3000UL: standard model
SL3000ULDC: equipped with battery backup
SL3000ULDM: dual motor for heavier traffic and higher temperatures
SL3000ULE: capable of manual backdrive for emergency access
SL3000UL1HP: heavy-duty, 1 horsepower model for heavier gates
Owners Manuals

SL3000UL Owners Manual